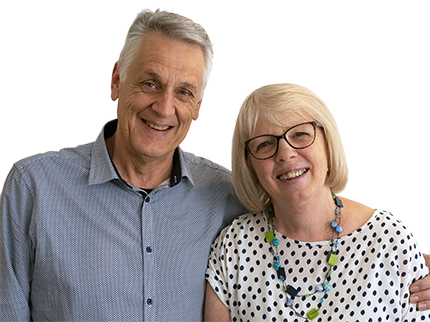 About Us
David and Jenny Wraight
David and Jenny Wraight both grew up in Melbourne Australia. After pursing an education in horticultural science David began his career in amenity horticulture with the City of Essendon and after a short time was appointed as the Director of Parks and Recreation. Jenny was educated in early childhood development and after completing her studies was appointed as the Director of a pre-school centre in the western suburbs of Melbourne.
David and Jenny were not long into their careers when they received a clear call from God to give their lives to full-time ministry and mission.
After exploring a range of ministry opportunities David and Jenny moved from Melbourne to an Aboriginal community in Western Australia to care for neglected and abandoned Aboriginal children. Following their time in Western Australia, David and Jenny served in a pastoral role in a church in the south eastern suburbs of Melbourne during which time they developed an extensive youth ministry reaching hundreds of un-churched young people.
In 1990 David was appointed as the Executive Director of Youth for Christ (YFC) Melbourne. He subsequently served as National Director of YFC Australia, Area Director of YFC Asia Pacific and finally as International President from 2004-2013.
During David's term as International President, Youth for Christ pioneered or restarted ministry in 66 nations, connected with over 50 million young people, developed a prayer strategy that grew to 237,000 prayer intercessors globally, increased the YFC staff to around 40,000, and implemented a young leaders' empowerment process that mobilized thousands of strategic young leaders across the world. At the end of 2013 YFC had ministry in 140 nations.
David is the author of two books: The Next Wave which describes how God is raising up a generation of globally connected young people who—with the empowerment and support of the Church—have the potential to usher in the greatest mission movement this world has ever experienced; and Kingdom Come which explores what happens—or what should happen—when God's Kingdom comes in a person's life, in the Church and in the world.
David currently serves as the Director of Christian Community Churches in Victoria and Tasmania. He is also the founder and Director of GloLead which provides consultation, mentoring and coaching for global ministry leaders and assists mission organisations to navigate change and renewal.
Jenny serves as the Children and Family Ministries Coordinator for Christian Community Churches and is also engaged in ministry development and leadership support with GloLead.
David and Jenny have three children and five grandchildren and reside in the CBD of Melbourne, Australia.
Home
Latest Newsletter